There is a viable alternative to both cement and steel for "tall buildings" in America and around the world. This option could perhaps replace certain building products that produce extreme amounts of greenhouse gasses.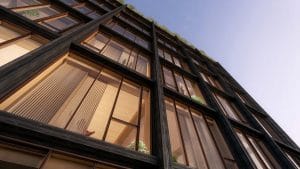 What is this modern, mystical, magical series of construction components and techniques ready to potentially replace structural concrete, masonry, or steel?
Timber. Good ol' lumber is renewable and is stronger than most other building materials, especially after being processed into Cross-Laminated Timber (CLT). Southern Yellow Pine is one of the softwoods used to make CLT, which proves again the versatility of SYP.
CLT refers to large-scale, prefabricated, solid engineered wood panels, the likes of which the public can see up close at an exhibit called "Timber City" at the National Building Museum in Washington, DC.
CLT offers not only design flexibility but also low environmental impacts. The panels reduce noise and dust associated with traditional construction of tall buildings. For these reasons, cross-laminated timber is proving to be a highly beneficial alternative to conventional materials like concrete, masonry, or steel. These panels are lightweight yet durable; with superior acoustic, fire, seismic, and thermal performance. Besides being fast and easy to install, CLT generates almost no waste onsite.
The heart and soul of the concept of a "Timber City" lie within its prospectus: instead of utilizing steel or concrete, trees might guide the architecture of cities in the future. This idea is a radical pivot from the construction practices that have dominated North American cities for over a century.
Mass timber structural systems, and the sustainable forestry practices and material science that support them promise a new synergy between dense cities, healthy forests, and a thriving industrial economy based on wood. The building and infrastructural demands of a rapidly urbanizing global population offer an opportunity to reduce the carbon footprint of the construction sector dramatically.
So the next time you gaze upward at a tall building, see not only see the possibilities that lie inside but the probabilities that wood can build the tall buildings of tomorrow.
More Information on "Timber City" at the National Building Museum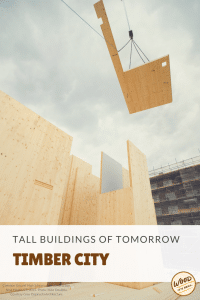 (PRESS RELEASE)
WASHINGTON, D.C.—The National Building Museum continues to feature the groundbreaking new exhibition by Timber City, demonstrating a broad range of benefits offered by cutting-edge methods of timber construction, including surprising strength, fire resistance, sustainability, and beauty. The exhibition will run through May 21, 2017.
Timber City's exposition illustrates the proven value of timber as a modern, strong, and versatile building material through featured projects, curated and designed by Yugon Kim and Tomomi Itakura, founding partners of the Boston-based architectural design firm ikd.
The USDA Forest Service and the Softwood Lumber Board partially funded Timber City.
ABOUT THE NATIONAL BUILDING MUSEUM
The National Building Museum is America's leading cultural institution dedicated to advancing the quality of the built environment by educating people about its impact on their lives. Through its exhibitions, educational programs, online content, and publications, the Museum has become a vital forum for the exchange of ideas and information about the world we build for ourselves. Public inquiries: 202.272.2448 or visit www.nbm.org. On Twitter: @BuildingMuseum and Facebook: www.facebook.com/NationalBuildingMuseum.