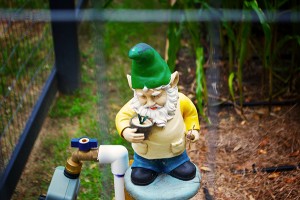 Josh Barrett, WIR Contributor
Apparently, we didn't get the memo that deer could launch six feet into the air, do a triple lindy and land in our garden. Deer will eat everything that isn't nailed down. And "ripe for the picking" veggies are on the menu. Welcome to semi-rural South Carolina.
We've had several weeks of succession planting, pruning, weeding, watering, and digging six by eight raised gardens beds. The last thing I'm going to do is offer an unlimited buffet to every deer in Beaufort County. Below is my play-by-play of our garden fence project with Southern Yellow Pine.
My wife knocked out about 2,000 hours on Pinterest, searching for what I call "The White Elephant" of garden fence nirvana. After our market research was completed, we knocked out a few sketches on paper towels and were ready to rock.
OBSERVATION:  Scouting for lumber—and knowing what to look for is key. Next time, I need to spend more time on lumber selection before I step in the abyss. With that, the garden fence had to do the following:
Withstand the elements
Made of Southern Yellow Pine, not fake wood
Fit in our budget
And little did we know, Southern Yellow Pine -sometimes referred to as SYP – is pretty much sourced from our "backyard" as it's grown all over the South (hooray for locally-sourced materials). It's the wood of choice for home projects (and otherwise) because of its strength, cost, and how green it is. Not like Hulk green but environmentally responsible green.
Four by fours, eight by fours, four by ones, ones by fours, one by ones, two by ones and the list goes on. I felt like a page in a Dr. Suess book. However, getting all of the Southern Yellow Lumber I needed was a breeze and promptly was shoe-horned into my SUV.
I am not a great planner, but I am a "Lumber-artist." And I had all of the lumber I needed and was ready to start the build.
Below are some do's and don'ts of garden fence building:
DO
RENT AN AUGER. My wife was right. There's no reason to cowboy this part of the plan. It's been a decade or so when I last used a post hole digger. I do not have lumberjack hands I have "work-behind-a-keyboard" hands. Not fun.
After I had dug 12 three foot holes, I started dropping in the four by fours, leveling and backfilling the holes with dirt. One thing, Southern Yellow Pine is pretty husky which means it's sturdy and heavy.
DO
Chug a gallon of sweet tea.
DO
Pack the soil around the posts with a sledgehammer, using the side of it. It works well and is also a great tool if you like getting injured, just in case you're having second thoughts about the project. I tried to bribe my seven-year-old to drop it on my foot. He did not acquiesce my request.
DON'T
Guzzle more sweet tea, even if the mini-chucks and sugar high are only temporary.
DO
Trim the tops of the four by fours and the one by fours as needed. Working with Southern Yellow Pine is easy. It cuts well and paint sticks like a moth to a flame. Make sure your saw blades are new or sharp as pressure treated pine is solid. If you want to be super crafty, you can snag some copper fence post tops at your local lumber store. It's a subtle detail and it can even distract the eye from any flaws your fence may have.
DON'T
Burn pressure treated lumber scraps in your fire pit. Can't stress this enough: don't even think about it. Pressure-treated lumber and fire don't mix.
Once all of your Southern Yellow Pine is hung, it's time to prime and paint.  A coat of this, a few coats of that andit was done. Wam, bam, thank you, ma'am.
DON'T
Forget your work gloves during this step. Laying and stapling the chicken wire to your rails is not easy, and the roll of chicken wire bucks like a mule. Once the staples were started, the rest of the wire slapped on like butter.
DO

Look for other applications. It's not only great for keeping out hungry critters, but works as formidable dog yard and the ideal zombie cage.
DO
Take lots of pics, share on Facebook and Instagram so you can brag about your carpentry prowess. Then drink more sweat tea.
So, what did I learn from this project? All wood is not created equal. The benefits of Southern Yellow Lumber were ideal for this project. Its cost, strength, availability, and environmental sustainability made this choice an easy one.
I like to support my local. Whether it be veggies, fresh oysters or honey. And Southern Yellow Pine fits the bill. It was a no brainer.