WIR Contributor Michael Connolly
Talent is easy to spot – and we love finding folks who are true artisans of wood. In our search, we found two young men in Jackson, Mississippi whose talents for turning timber into beautiful pieces of furniture are being recognized throughout the country. They're David Dill and Paul Purser of D + P Design Build.
They make high-end tables, benches, decks, and also do construction services for residential and commercial clients. Their clients include regular people like us but also include the Tesla Motor Company, Michael Symon from the Food Network, and Whole Foods.
David and Paul met at Mississippi State University's School of Architecture and found a shared love of crafting with wood. After graduating in 2010 and working for a while in the construction industry, they decided to join forces and start their own company.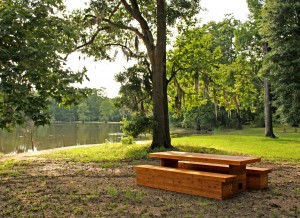 Wood. It's Real. spoke with David about D+P Design Build.:
"I prefer to build with local materials.  I've been accredited in LEED and have a Bachelor's in Architecture from MS State U. I have done lots of study and work concerning techniques for better building and one of them involves sourcing local materials.  …I can appreciate the strength that SYP (Southern Yellow Pine) has compared to its fir, spruce, and eastern pine counterparts.  If you look in the code book, SYP is allowed greater spans compared to other lumber types."
On D+P Design Build's Style:
"We definitely lean toward modern, we're not minimalist.     I love to incorporate other materials and make them the show. We like clean lines and using different types of wood."
SYP as a Material for Outdoor Furniture:
"We sell some outdoor furniture made of treated wood, or Southern Yellow Pine. We did a modern picnic table called the Rowan. It's less expensive than the exotic woods. We made a few tables for the Tesla Motor Company and Michael Symon, the chef."
On Southern Yellow Pine design qualities:
Pine is a good wood to use because it is a softwood. Meaning, it's easy to sand; it's easy to screw screws in, it's easy to cut and that's what makes it a good wood to work with. A lot of our framing material is Southern Yellow Pine and we use it extensively in remodels.
SYP Advice for DIYers:
If you are using SYP for furniture, be sure to take care not to gouge the wood; it is a soft wood that needs to be handled with care.  Be sure to give it a hard finish to protect from this after building.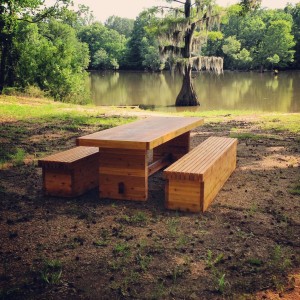 (Images via D+P Design Build LLC)