A GREAT LITTLE DIY SIDE TABLE
A little side table with a big impact.
This project is a great one for a novice builder. You'll go from a small pile of pressure treated lumber to a neat table in a few hours. A DIY'ers biggest challenge will be connecting the butt joints for the legs. That's why we suggest using biscuits as shown in the photos.
We took some looking around and found that small patios and small patio furniture can live large. This sturdy table helps make the most of your outdoor square footage.
Since it's made with pressure treated 2×4's and 2×6's, it's affordable and will last a long time outside. So why stop at building just one?
When you try it, please let us know and share pictures. We just love that.
If you'd like to print these plans out click here.: Downloadable Side Table Plans
LET'S BUILD.
We recommend getting the following supplies:
MATERIALS
Lumber
• (3) 2″ x 6″ x 8′ pressure treated Southern Yellow Pine
• (3) 2″ x 4″ x 8′ pressure treated Southern Yellow Pine
Other
• 1.5″ exterior grade Screws or Finishing Nails
• Appropriate Bit for Deck Screws
TOOLS
• Pencil, Measuring Tape, Carpenter Square
• 2 Bar Clamps
• Table Saw
• Mitre Saw or a Mitre Box with a Hand Saw
• Radial Sander / Sanding Block (optional)
• Safety Glasses / Ear Protection
• Dust Mask / Work Gloves
OVERALL DIMENSIONS OF THE AWESOME LITTLE SIDE TABLE
CUT LIST
Without further ado, here we go with the cut list. It's all pretty straightforward for this plan.
AND NOW THE FUN PART: PUTTING YOUR AWESOME LITTLE SIDE TABLE TOGETHER.
Step 1: Build the Main Frame
Join the two long (1′ 4.5″) stretchers to two legs using wood glue, biscuits if you'd like, and a fastener of your choice (either deck screws or finishing nails).
Clamp the parts together while assembling to keep everything flat and easy to manage.
Step 2: Build Secondary Base Frame
Join the remaining two legs to the four short (7.5″) stretchers with wood glue and decking screws.
Clamp the subassemblies together to keep the parts together.
Step 3: Attach the Main Frame and Secondary Frame to Create the Base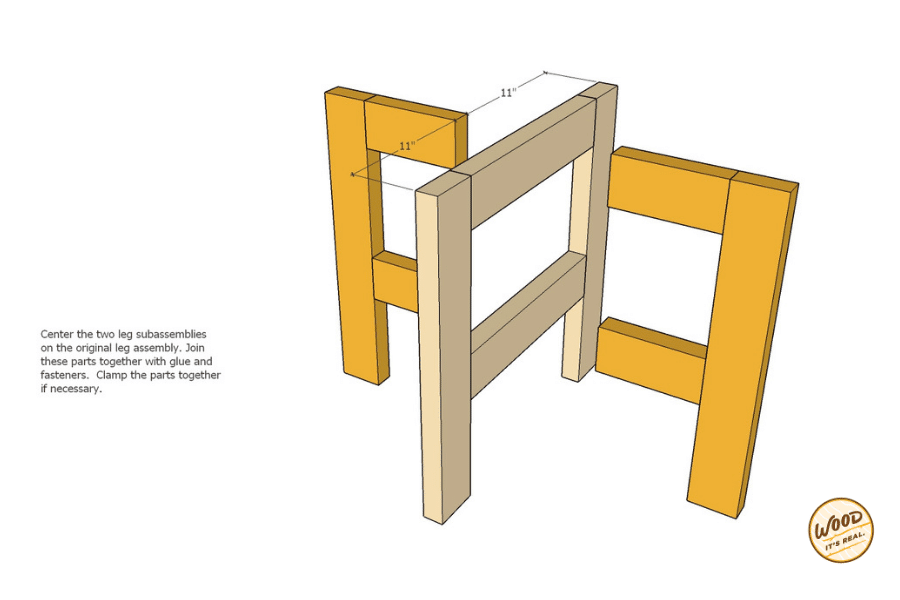 Center the two leg subassemblies on the original leg assembly.
Join these parts together with glue and decking screws.
Step 4: Cut the Table Top Rail Pieces
Cut the table top rail pieces, with a 45-degree angle at both ends, as indicated above.
Prep a total of 4 pieces.
Step 5: Attach Table Top Rail Pieces
Place the leg assemblies upside down on a flat surface to assist with attaching the rails. Check the fit of all the part and confirm that everything is square.
Install the rails by glueing the ends and fastening with decking screws.
Step 6: Cut and Attach Top of Table
Lay four 1'10" boards for the top on a flat surface to get the most visually appealing configuration.
Start by attaching the middle two boards centered on the base, using wood glue and decking screws or finishing nails.
Step 7: Sand, Stain, Enjoy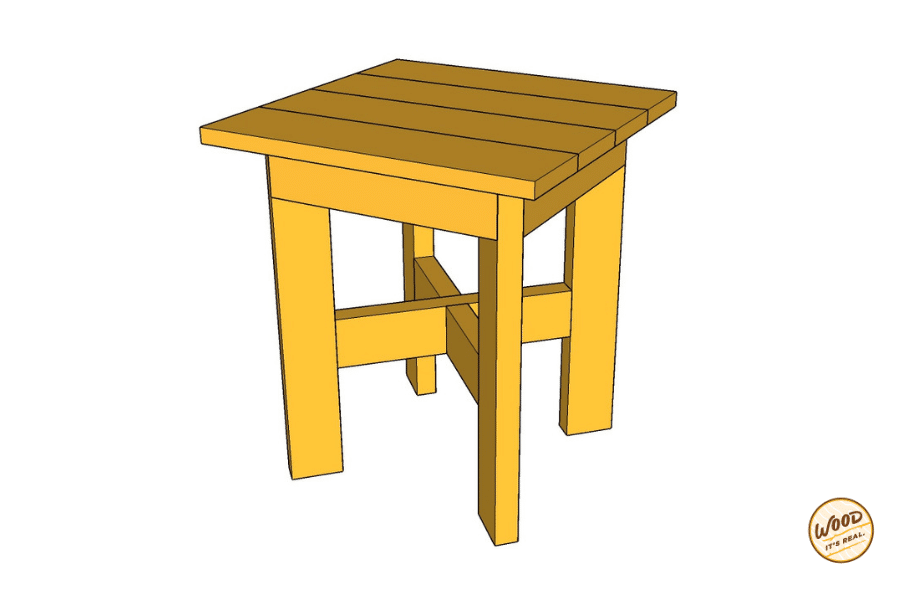 Sand any rough edges.
Paint, stain, or seal as you'd like.
Enjoy!