Beautiful, versatile, and un-treated. Check out these Southern Pine projects.
By Mark Clement
Southern Yellow Pine is the mainstay for decking and outdoor projects. The wood's abundance, transportability to major population centers, makes it valuable and convenient. More importantly, though, we love SYP for its ability to absorb the stuff that makes it the first line of defense for decks, garden beds, or playsets.
Looking inside your home, Southern Yellow Pine's beauty, strength, and availability make it awesome to work within projects all over your house. 
You may not realize it, but there's a corner of the home center and lumber yard dedicated to the unsung hero of the SYP world. You may have spotted it and thought it was "pine" flooring or perhaps beadboard.
It is.
But it's also so much more than that (silently swooning as I type. I love projects).
As "flooring," the home center-Southern Yellow Pine is tongue and groove and that's the gateway to a million projects where wood grain awesomeness is what you're after. Here come a few "inspos" that I hope help your DIY.
Shower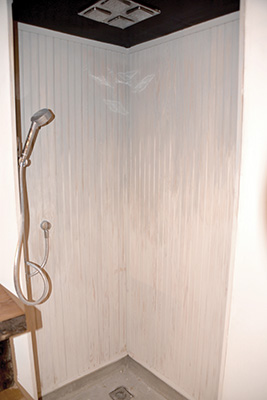 One time, I used Southern Yellow Pine to make a shower surround. For this project, I framed the walls like I would for any shower—studs and blocking. Instead of wallboard or backerboard, however, I used a dimpled plastic sheet called Dam Proofing Membrane (DPM).
On top of that, I installed vertical T&G Southern Yellow Pine boards as I would in any other application—finish nails driven through the tongue into the framing. The DPM creates a drain plane behind the wood should any water, or water vapor, get through.
At the bottom of the wood I put in what an old school siding guy might call a "weather board." Basically, it's a sill angled down a bit with a relief cut in the bottom. This enabled me to seal the end grain of the SYP and evacuate the water into the drain.
Beadboard
Finishing a basement? Adding a man cave? Maybe building a SheShed? The long, wide, luscious grain and blonde-on-blonde coloration of T&G Southern Yellow Pine is perfect. The long, milled beads give it just the right texture to subtly define a space. Detailed sort of the opposite as the shower, it can be installed vertically (make sure there is horizontal blocking between studs every 24-inches or so) over framing to create an awesome wall cladding. Cap it with a custom-made piece you can gin up with a table saw and router and you've got a one-of-a-kind room and look.

Flooring
We use it for decking so we know Southern Yellow Pine can take a beating. But sanded (optional, though I'd recommend it) and sealed with urethane it makes a great floor. Add it to a mudroom, foyer, home office, porch, or wherever you're looking to make stand out. Unlike the above projects, which I'd install with finish nails, I'd rent a flooring stapler for this application.
Art Projects
I'm planning to make a 24×24 inch pine picture frame. I plan to get some T&G SYP and leave a few pieces out in the weather for a few weeks, to distress them. I might paint a few to add a dash of color (I'll probably beat those with a chain and hit them with a grinder to ding them up before installation). Others I'll combine smooth side to beaded side. I'll orient them in a diagonal and fasten together. Maybe I'll just nail them over a few cleats in the back. I'll wrap the whole panel in a frame I'll make on the table saw.
Seal. Hang anywhere.
Boom. Art.
Feature Wall
I love feature walls. Back when I first started in home improvement, a "feature wall" to me meant one wall painted a bold color in an otherwise plain-ish, gr-egie décor. Installed horizontally over a full wall or just to wainscot height, bead out or bead in—SYP adds a dose of color, texture and a brightness that's hard to beat.
Find the framing. Set level, install tongue up and shoot nails down into it at a 45-degree angle. You've got yourself some serious feature.
Headboard
For a headboard, I'd combine some installation elements from the Shower, Art, and Feature Wall items above. First, I'd install it over a backer, like the shower. Plywood screwed to the wall studs is probably best. While this maybe isn't necessary, it will make the installation somewhat less than permanent, should you decide to move the bed one day. I'd fasten it with 1 ¼-inch narrow crown staples.
Maybe add some texture by weathering some pieces in the sun or adding a few distressed painted "highlight" pieces, etc.
And how you orient the boards is up to you. Flat-bead-flat-bead. All bead. All flat. Up to you.
Nail it all in place (with nails short enough not to pierce the plywood) and wrap with a frame.
Nighty night.
(Images via ExtremeHowTo.com, Houzz.com, DougPisik.com, RusticCollection.com, and Shutterstock)