Here's a fun weekend project.
This plan is also good for grills and other yard gear like bikes or even firewood. Also, this post is full of tips you can apply to all kinds of DIY.
By Mark Clement
It would seem that where I live, many of the houses were built before the invention of the trashcan.
For reasons escaping explanation, there's just no good place for them. Side yards are all grass, or there's a great view of them from the street. Whatever the case, there is no discreet place to put a trashcan.
So, I made one.
This is where a little elbow grease, power tools, and Ground Contact Southern Yellow Pine comes in to play.
Here it is! I give you the super deluxe, yard organizing trashcan platform.
A wood platform is a warm, attractive place to organize trash cans and other yard items.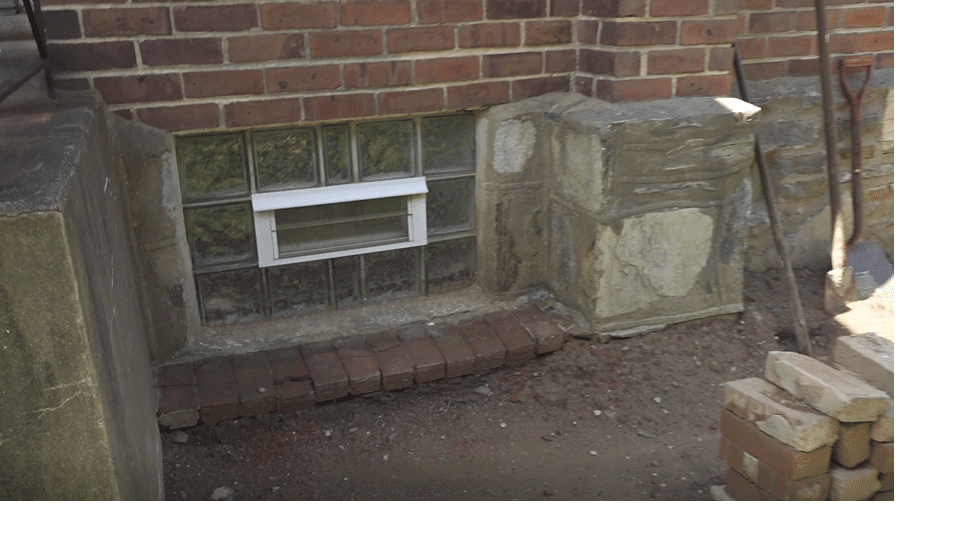 This was just a hot mess before I started.
The usual routine is to pour a concrete slab. There's no opportunity for a railing to mask the cans from the street or drive. It's a lot of work. It looks nice if you like ugly things. Just, no.
How to build your own trashcan organizer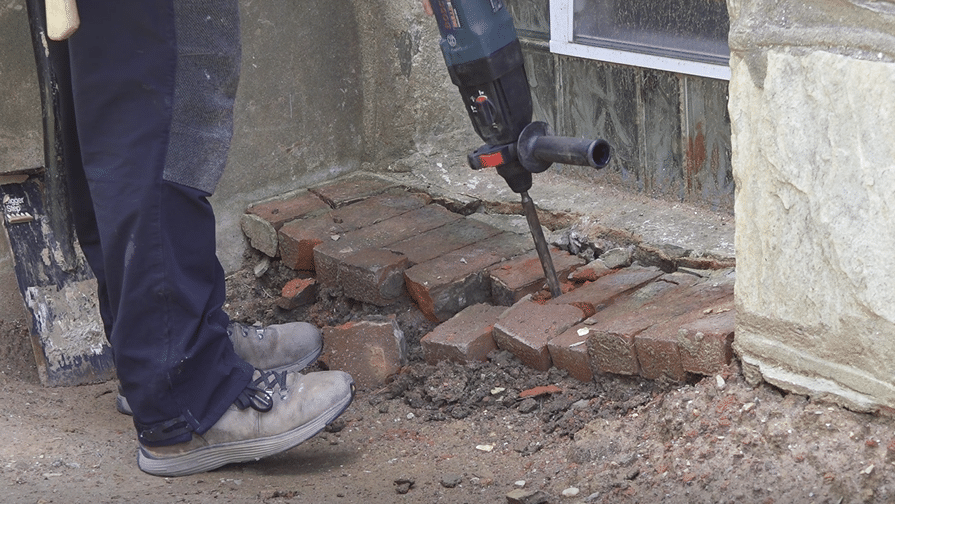 Step 1. Remove what's there – whether that's grass or mulch or whatever – and get down to the dirt. In this case, I used my rotary/chipping hammer to break up the brick. A sledgehammer would have done the trick too.
Step 2. If there is a window or other element that requires consideration, consider it now. Here, we measured down from the windowsill so we could remove enough dirt for our "foundation." More on that below.
Step 3. Commune with Nature (buggy soil is usually healthy soil; they run away before long).
Step 4. I like to have 3-inches of pea gravel for my platform foundations. To find out how much dirt to remove, I used a level to show me the actual sill height. Then, I added up all the stuff: 1-inch deck board + 5 ½-inch joist + 3-inch foundation thickness = 9 ½-inches below the sill. This way the deck boards plane out with this windowsill.
DEFINITE TIP! To over-make the point, this probably won't happen to you, but this is one of those moments in DIY where you have to be able to predict the future. That's my takeaway here. When doing DIY projects, try and think ahead. I call it being a timed traveler
"If I do this, then what will happen 10-steps down the road?"
Step 5. Dig a reasonably flat dirt pad. Dig a trench around it about 3-inches deeper than that. Fill with pea gravel.
Step 6. Frame a surround. In this case, it's just 2-pieces (the stairs and the house form the other two sides of the rectangle). These boards will trap the pea gravel.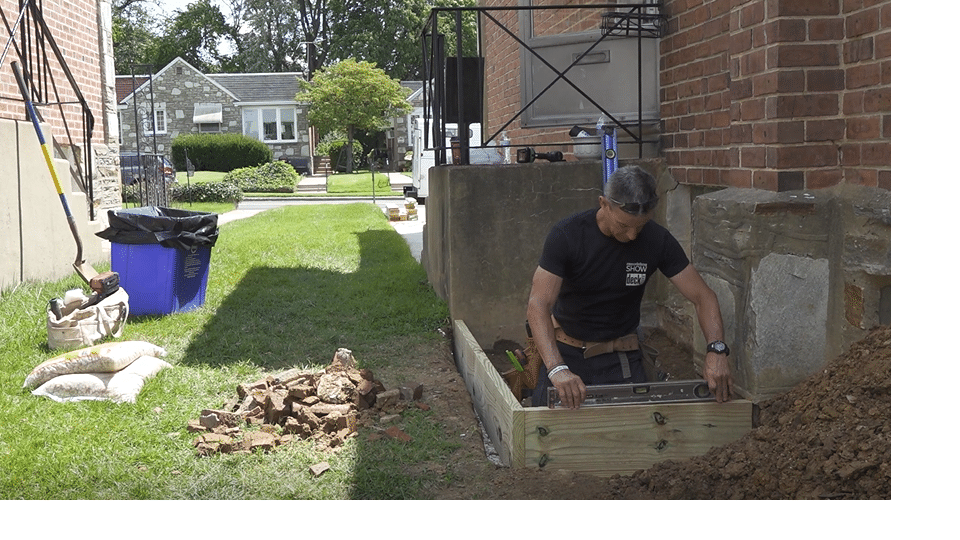 Step 7. Install the surround and get it level. Two levels work better than one.
Step 8. Fill the space with pea gravel to the desired thickness. I like the "pads" to be 3-inches thick, as I mentioned above. Use your level as a screed board of sorts and get it level in all directions.
SUPER TIP! I carry a notebook as standard issue in my nail bags. I never leave home without it. If you've got some funky bump out or detail, a little diagram is worth a thousand boards.
ANOTHER TIP! Measuring tip. If you've got lumpy, bumpy, out of square surfaces to measure to or from, throw a block of actual wood in there to represent the actual full-size piece to be installed later. It's hard to explain why this is 80-times more accurate, but it is.
Step 9. Build the 2×10 platform frame. Use a square to make sure the corners are 90-degrees.
I used 3-inch #10 coated deck screws for this project. I'm partial to Spax and I use them for practically everything.
Step 10. Install the 2×6 joists.
CARPENTRY RULE. Almost any time there is some weird notch or "sliver cut," which is a surefire sign of an inelegant solution. Here, we would have had both situations because the deck board extended past the chimney. Solution: Trim the deck board to plane out flush with the chimney and start up again with a full deck board. Problem solved. The bigger picture: Spend time thinking about how to avoid notches and sliver cuts whenever possible.
Step 11. Measure to the front of the surround to make sure the decking is parallel.
Step 12. Install deck board and cut all at once.
Step 13. A little railing detail contains the trashcans and gives a nice visual break that hides the receptacles from the street. I used three, 5-inch structural screws to make the connection.  P
Step 16. Install the rails.
Step 17. Route the top cap if you like. I also clip the edges with 45-degree cuts.
Install 2×2 pickets and there you have it. A warm and wonderful spot for Oscar the Grouch and friends.
Subscribe to Mark's YouTube channel, MyFixitUpLife, for more wood projects like decks, fences, and more.