With roots tracing back four generations and over 80 years, the story of Morgan Lumber reveals triumph through tragedy, environmental stewardship, economic opportunity, and industry pride.

"I find it humorous and ironic that Morgan Lumber produces southern yellow pine lumber in Red Oak, Virginia," says Ken Morgan. Mr. Morgan entered the lumber business with his dad in November 1971 at the age of 24 after graduating college and a four-month stint of basic training in the Army Reserves.
From humble beginnings as a portable ground sawmill in the years between the Great Depression and the onset of World War II, Morgan Lumber Company got its start. With money earned from tobacco crops on their small farm in southern Virginia, Ken Morgan's granddad (J.C.), dad (Billy), and uncle (Willard) purchased the portable sawmill and earned money from it by going to neighboring farms, harvesting timber, sawing the lumber and dividing proceeds 50/50 with the timber owner.
After Billy returned home from his service in WWII, the Morgan family banded together to build a stationary sawmill that, over the course of the 1950s, expanded to a second sawmill, planer mill, and building supply store. Today, Ken Morgan marvels at how far Morgan Lumber Company has come. The company celebrated 80 years in business last year, spanning four generations of family leadership.
Tragedy and Triumph
Thanksgiving Day 1981 brought tragedy to the Morgan Family. Billy Morgan, Ken Morgan's father, was involved in a farming accident and succumbed to his injuries a few days later at the age of 58. Ken was suddenly left feeling alone and lost – contemplating whether to operate the planer mill since he had no exposure to it over his ten years with the company. Ken says he could hear his father's voice saying, "Son, the money is in finished lumber." With that, he continued his focus on running and learning the planer operation.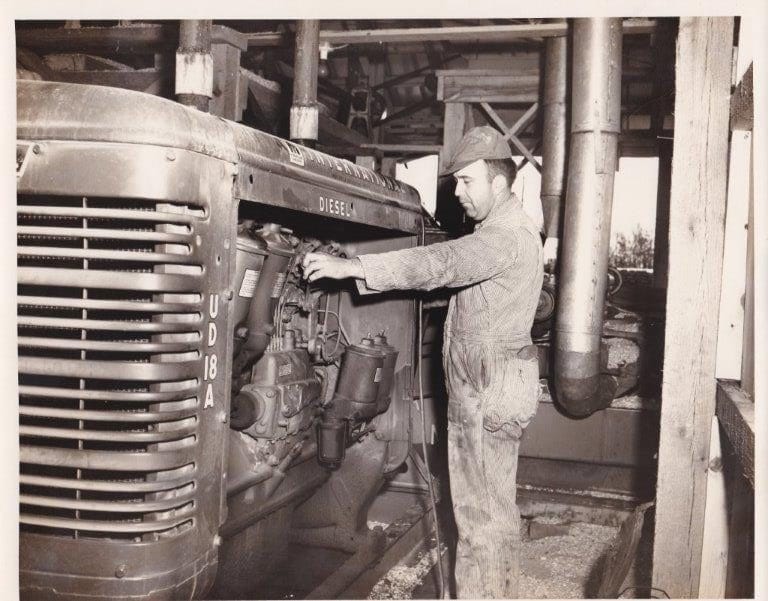 Throughout the 1980s and 1990s, the sawmill doubled many times its production. Capital improvement projects yielded a new primary breakdown, an optimized edger, trimmer, sorter, stacker, dry kiln, and new planer mill.
Ken also says it was in the mid-1990s he realized the value of investing in people: "There is obviously not a better investment than in that of good people and what I describe as 'good people' are those foremost of integrity. After integrity and in no particular order are competency, commitment, work ethic, team player, and communicator. The quality of a company directly reflects the quality of its people." By the late 90s a unified team of good managers was ticking like a fine clock. "We now made decisions as a team," says Ken.
Morgan Lumber suffered a devastating fire in February 2006 that resulted in the loss of the planer mill operation. Several lumber companies asked Morgan Lumber what they could do to help. Amelia Lumber Company in Amelia, VA and Gibson Lumber Company in Gretna, VA graciously leased their operations to Morgan Lumber Thursday through Sunday each week for 6 months. Morgan Lumber shipped their own rough dry lumber on sticks to each of these operations and brought Morgan Lumber's planer crew to run their operation.
"We ran the mills, maintained the mills, and worked hand and hand with the Amelia and Gibson employees and management team to ensure the mills were in good condition week after week. These mills were running 7 days per week for 6 months. It was a team effort." says Ken. On Sunday evening, all of the dressed lumber was shipped back to Morgan Lumber's mill so Amelia and Gibson were ready to start back up Monday morning. Every employee on Morgan Lumber's planer crew remained with them during this trying time and they were able to operate a 40 hour schedule each week for 6 months. This allowed Morgan Lumber to retain contract commitments that it needed desperately during this time. Morgan Lumber owes so much thanks and gratitude to these two companies for allowing them to lease their operations. "Morgan Lumber would certainly not be where we are today if not for these two companies, and it just shows what a great industry we are in when your neighboring mills, even as competitors, come forward to help you."
Teaching Environmental Stewardship and Economic Opportunity
Ken Morgan believes it is extremely important for forestry and forest products industries to take advantage of the unique opportunity in educating the public regarding the environmental and economical contributions derived from progressive forest management.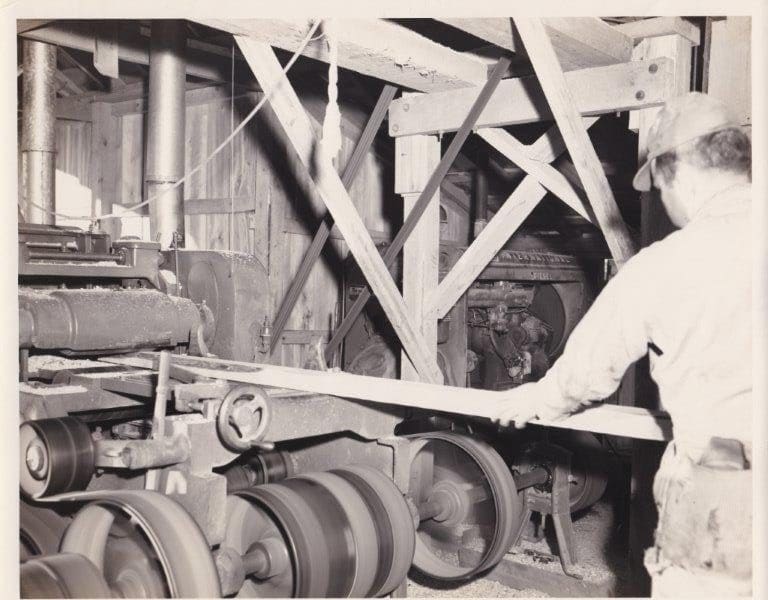 To this end, Mr. Morgan regularly works with youth education and sits on the Board of Directors for the Virginia Forestry Educational Foundation (VFEF) whose mission is to "financially support statewide youth education promoting sustainable forests for the environmental, social and economic benefit of all Virginians." VFEF's goal is to train teachers to teach the environmental and economic benefits of progressive forest management in every elementary school throughout Virginia.
Ken believes involvement with VFEF and educational programs like it constitutes "a prudent and solid investment for forest landowners, forestry professionals and industry personnel."
Ken says, "I am most proud to be actively involved in helping ensure young people have the same opportunity which I have had."
Industry Pride
Since 1939, through ups and downs, the Morgan family company has been the backbone of the community because of their employees. "I am most proud of Morgan Lumber from hearing comments of many of our employees expressing their pride in working for the company," says Ken.
Morgan Lumber has been very fortunate to have many smart, dedicated employees over the years that take a genuine interest in their role with the company. Each job and position in the operation is truly as important as the next one and it takes a strong team of individuals with a variation of skill sets to run the operation efficiently each and every day.
"There is a lot that can happen between the tree being cut and the lumber going on the truck," says Ken. "We have certainly had employees come and go through the years and all have contributed to the success of the company at one time or another. We have been fortunate to have been able to retain many key employees celebrating 10, 20, 25 and even 30-year anniversaries with the company last year. When all employees share common goals and the vision of the company, they tend to feel a sense of pride of what the company is trying to accomplish and the direction the company is headed. This philosophy pulls a good team together. Good people attract good people. We have a solid team of good people!" says Ken.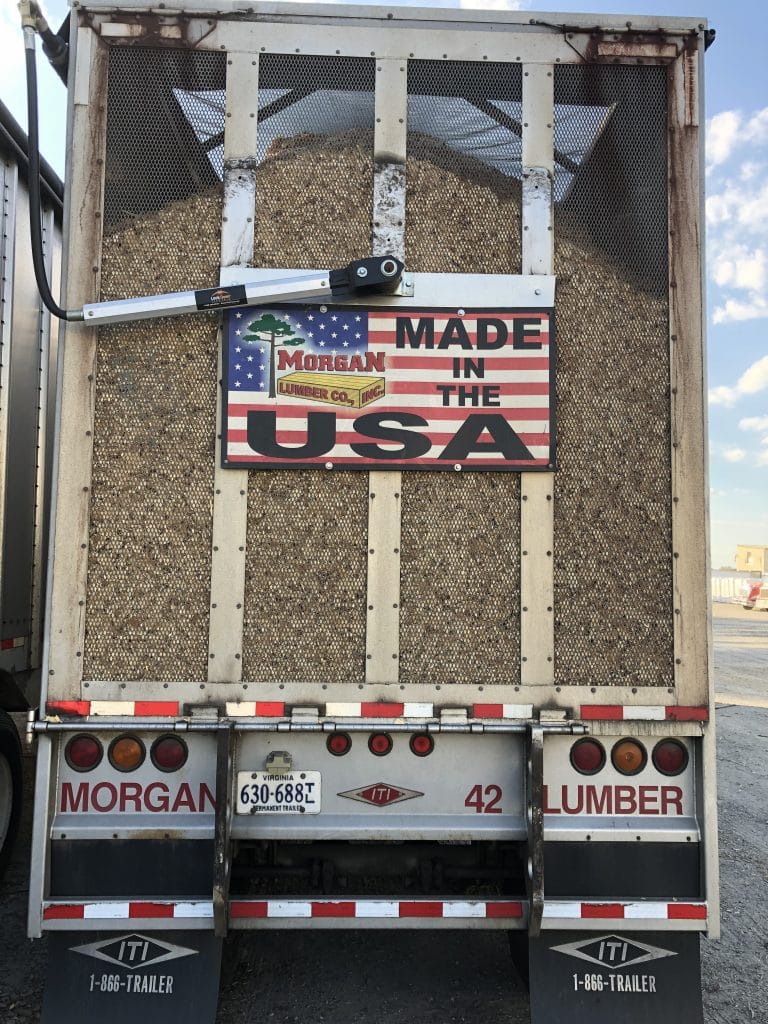 "Through all the ups and downs since our family has been in the lumber business, I would not trade it for anything," says Ken. "If I had it to do all over again today, I would walk the same path and enjoy the ride all over again."
"There is an adage in our industry," says Ken, "'if you get sawdust on your collar it is hard to shake it off.' I am proud to have sawdust on my collar and to call many in the industry friends."