Tall Wood Building, check it out:
"From developer Hines and designed by Michael Green Architecture and DLR Group, this new office building's seven stories and 220,000 square feet of mixed retail and office space will have a strong draw on local investors and the tech and creative tenant due to the warmth of wood and the embrace of green construction techniques and materials."
Source: www.structurecraft.com
Sustainable Construction with Timber
Tall wood buildings are super fascinating stuff for folks interested in sustainable construction. This story is about T3, an office and retail building going up in Minneapolis, Minnesota. While the bottom floor is concrete, all six floors above will be constructed entirely with timber.  T3 (Timber, Technology, Transportation) is said to be the first modern tall wood building to be built in the USA.
"The 19th Century was the age of steel, the 20th of concrete; this century is the new age of timber.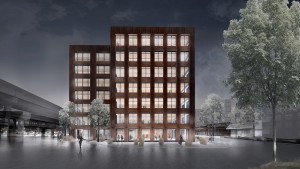 T3 has its own site and blog and everything, so people can follow along. But most important, they have an awesome time-lapse video showing construction.
From sustainability to cost to construction time, there are many reasons why mass timber construction makes sense. Check out the story above to learn more about how this old school building material (wood) is getting a modern twist.
(Images via StructureCraft.com and WorkZoneCam.com)