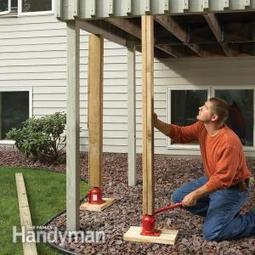 "Make your deck stronger and safer. Fix the 7 most common problems—missing lag screws, missing joist nails, rotting posts, weak joints, excessive wobble, missing flashing and weak railings."
Source: www.familyhandyman.com
When to Maintain Your Deck
According to Consumer Reports, the best time of year to maintain your deck is between May and September of every year. That's because the trees are done pollinating, the weather is nicer, and you're more likely to be outside enjoying it.
No matter what your deck is made of, the frame of it is likely made from pressure treated Southern Yellow Pine since it's such a strong, durable material.
Take a Walk
We suggest first taking a walk on your deck to detect potential issues. Here's a link to an article we put together that outlines the simple four-step process.
It's important to take a look at your deck from top to bottom, up and down and all around. This article from The Family Handyman talks about how you can fix the 7 most common decking problems.
When To Call a Pro
If you don't have the time or the ability to check and fix your deck, call in a professional. As a start, you can look at the directory from the North American Decking and Railing Association (NADRA).
Sources:
http://www.consumerreports.org/cro/news/2015/07/5-steps-to-a-safer-deck/index.htm