by Mark Clement, WIR Contributor
The How and Why of DIY
Let's find a new way to be happy.
Food writer Michael Pollan says in his book Cooked that Americans spend more time watching TV shows about cooking food than actually cooking food.
I have no way to prove this, but I'd guess the same is true for home improvement and DIY projects.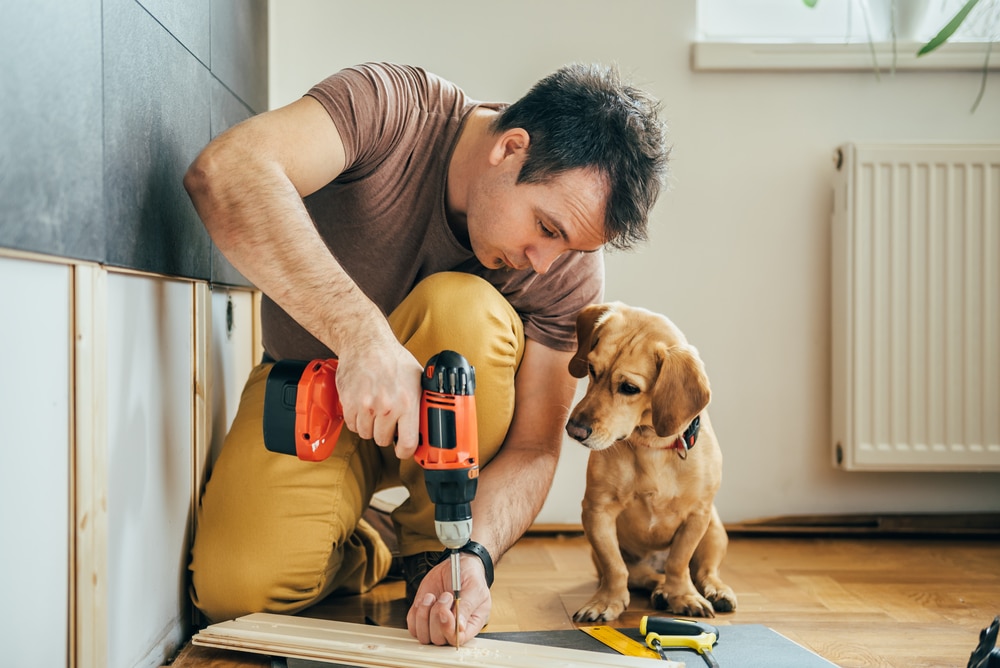 And that's a shame because I've seen people's eyes light up once they build up the inertia to start—and then finish—a home improvement project.
It's awesome and fun to be a part of it. And what I've noticed is that some of the biggest hurdles aren't with the complexity of a project or the tools or anything like that at all.
What is it? Thoughts. Perceptions. Expectations; this is too much work. It's too hard. I worked all week. I'm not 'working' on the weekend, or they're simply in the habit of not doing things. That alone is a heavy load.
I totally get all that. But those are thought barriers. And those thought barriers can be changed by other thoughts.
On the other side is some sweet fun, ways to save money, new ways to spend time or share a passion with loved ones, and meet the primal needs of shelter.
Five steps to unlock the joy of home improvement
…and maybe… just maybe… help find a new way to be happy.
Let's get cooking.
Step 1: Accomplishment
Problem: 'Ohhhh, it's soooo easy. You'll feel such a sense of accomplishment…' say lots of talk show people. Sorry, folks, but that's not necessarily true.
There is a grain of truth in it, but there's also a pack of missing info that short-circuits the system.
Why?
'Simple' and 'easy' are not the same thing. It's fairly simple to trim your hedges or build a simple ramp to your shed, for example, but it's not easy if you've never done it before and all the wiring in your brain is telling you it's going to be awful, hard, dirty, whatever…
Solution: Decide to decide.
Accomplishment starts not with tools and boards but a decision. Treehouse Master Pete Nelson makes the same point in his awesome Treehouse book: Done is better than perfect.
In other words, decide to start and then decide to finish, no matter what.
There's power in that.
Step 2: Start Small
Problem: If you've never done anything like remodeling a bathroom before, don't remodel a bathroom.
Taking on too much is the first problem many DIYers make. It looks easy on TV or YouTube, but that's not real life.
Solution: Start small. If you're new to projects, start with stuff you can wrap your head around and accomplish without tearing your house apart. Do some skill building by building the best garden bench ever, for example, instead of a custom shower, or build a sweet fence instead of remodeling your kitchen.
Step 3: Organize
Problem: Looking for things—tools, wood, that caulk gun you thought you had but is now gone—isn't doing a project. It's looking for things.
Solution: Separate the tool and material organization from the project itself. Make getting ready its own project. Organize—or at least locate—all the stuff you'll need before starting.
Then you can spend maximum brain and body time on the project instead of running around frustrated and wasting time. Tool searches are momentum killers.
Professional carpenters are good at this because we use our tools all the time and we typically know where they are. It's second nature.
Step 4: Time
Problem: There is no bargaining with time. Yet, I think it's human nature that we all do it. In DIY projects, time presents a special problem. DIYers take on a project and don't consider that it'll take time and mental bandwidth away from other things. That can cause friction—namely unmet expectations for themselves and the people they live with. "If a man says he'll fix something, he'll fix it. There's no need to ask him every six months!"
Solution: Make a time plan. You can't walk your dog and finish your basement at the same time or fit in framing a deck between your kids' soccer games and make it with your family or spouse. This is no different than planning for the soccer games and dog walking. There's no reason both can't be accomplished.
Step 5: Expectations
Problem: DIY isn't quite like other hobbies and passions. If you run a road race and don't do your best, your time isn't nailed to the wall in your kitchen. It's just a disembodied memory.
Solution: This ties a lot of the above items together. DIY is about the thing, yes. The deck or pergola or fence or backyard woodworking project like a cooler is the thing.
However, it is also about the experience. So, I say have high expectations, but don't beat yourself up if you fail to meet them. And yet, don't settle for lousy work either.
DIY is a journey
It's wrought with imperfection, but it is also a great source of joy and accomplishment that I think we all need. It's our job as humans to care for our home, and the less we do it, the less we're in touch with who we really are.
So whether it's mowing your own lawn or trimming your own hedges—and there's a difference between trimming your hedges because your dad makes you when you're 12 and trimming hedges as a homeowner: They're your hedges now! Decide to decide.
Get organized. Plan your time. Be ready for the bumps in the road and then, feel a sense of accomplishment that simply can't be had swiping a screen or watching somebody else make lunch.
Mark Clement is one half of the husband-wife My Fix It Up Life team. From their Facebook bio: Mark knows more about tools than anyone has a right to know. From docks and decks to kitchen renovations, Mark loves moving fast on the jobsite. With his wife Theresa, Mark hosts the popular MyFixitUpLife talk show, is the general contractor for Food Network's 'Save My Bakery,' and has been a project manager for Extreme Makeover: Home Edition, and expert guest on PBS, DIY Network, Discovery Channel, A&E, NBC's The 10! Show, Good Day Philadelphia, and other national radio and TV programs. Mark contributes to Men's Health, Professional Deck Builder, Old House Journal, This Old House, Popular Mechanics, Handy, and Extreme How-To magazines. He teaches clinics for JLC Live! and other trade shows, and is the former award-winning executive editor of Tools of the Trade. Mark is the author of the critically acclaimed novel The Carpenter's Notebook. As a competitive Spartan Race elite, and his athletic past as a rugby player, a triathlete, marathon runner, and urbanathlete, Mark's energy and skill are undeniable.
(Images via Shutterstock, via My Fix It Up Life)