By Mark Clement, WIR Contributor
DIY Projects Take Practice
For something I think is kind of important, DIY gets the short end of the stick in our minds.
A lot of other activities we engage in, we practice as a matter of course: road races, racquetball, video games, skydiving, driving, etc.
Yet, there are few life events that we spend time preparing for that we nail to the wall or we pour concrete around. There's an assumption that we'll just know how to address when it needs to be done because…
…I don't know why.
As a young carpenter, I was 237% guilty of this. I, perhaps, thought some baseline knowledge and a heap of tools would see me through, but they didn't. I ended up giving myself OJT (on-the-job training) because I had little choice.
For DIY, the same thing applies.
The "Aha" Moment
Just because you can see DIY projects on YouTube or see it on Pinterest, for example, doesn't mean you "know" how to do it. You see fragments of how someone else does it, but you can't feel it until you do it yourself. The "aha moment"—when the light bulb goes off over your head like a cartoon—happens in the actual moments of creating, building, and doing.
Crown molding is a good example of this because there is a series of moves that even seasoned DIYers don't often get the hang of, namely, cutting the material 'nested' or manipulating the miter saw to cut it flat, cutting it upside down (hello; right is left, and left is right…confused yet? I am) or coping.
I can say that I'm reasonably good at hanging crown molding, and the reason is not that I was born a carpenter. It's because I've hung a lot of it and got to practice. I got to make mistakes and to run out to the store for more pieces and to try again. Conversely, if you have a bad road race, it's a bummer, and the sad feelings are real, but the moment in time is gone. For DIY, it's nailed to the wall. The moment is never gone (hello to the double-edged sword of awesome/not awesome).
Walk Before You Run
Still many DIYers—Most? All?—try to go from not having done much DIY to trying to complete a project in a day or weekend without building a core competency of the basics.
So, let's say you're building a wood retaining wall, or you're taking on building a fence. They're pretty straightforward projects, but they require lots of skill in hole digging. It may not seem like something that requires having a core skill set, but it does.
The first thing is that it's not really a hole at all. It's a shaft, straight into the earth. And the shovel is a shovel, but you don't use it in the same sense as, say, for removing snow or scooping mulch. No, it's more of a 'dirt chisel' than a typical shovel move. You use it to penetrate the earth and scrape the sides of the shaft to make it go straight down. You want a hole, not a bowl.
First: Practice New Skills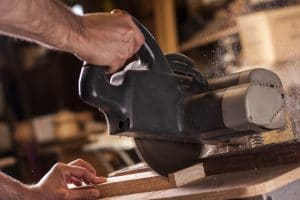 But you won't know any of this unless you practice first. For a fence, that'd be easy. I always start fences by setting a corner post or end post first. So start with that hole on a day NOT dedicated to building the whole fence. See how it goes. Use it to gauge how the rest of the job is going to go. You may not know that you need a digging bar for example. The time to find that out is NOT on fence day, but at some point before that.
If you're totally new to DIY and, say, are into making some things for your back yard like a raised garden or a sweet rustic table, take some time with the tools to get a feel of how they react when you push a piece of wood through (table saw) or practice measuring a piece and cutting it accurately (miter saw). Spend 20 minutes on it. Use all the tool adjustments. It'll save you 2 hours on project day.
Tip: For the miter saw, sight straight down the blade plate to the teeth. Line a tooth up to your pencil mark and then make the cut. How'd it go?
For crown molding, practice coping (coping works for inside corners—wall-to-wall—and is much better and ultimately easier than mitering). Try your hand at mitering (for outside corners) on a scrap piece before your install day. See where it gets tricky and where it's easy. This is where you find out all the things missing in the YouTube videos—even mine!
Next: Practice Perfecting

It's pretty easy once you get the hang of it—it's deciding to get the hang of it in the first place that can be the oddly hard part. You have to admit you don't know something, and that can be humbling.
Tip: I like the teeth of the coping saw pointed toward me so that I'm cutting on the pull-stroke.
What's more humbling, however, is the metric ton of caulk you'll need to cover the mistakes because unlike most life experiences—even the most cherished—the story DIY tells is there until someone takes it down.
Finally: Keep Practicing DIY Projects
Finally, these are just examples. The underlying principle is to get the hang of the important elements, whatever it is you might be trying to accomplish, before setting out to do the whole project. Crown molding is great on Pinterest, and it looks easy in videos, but in real life, there's more going on than meets the eye.
Mark Clement is one half of the husband-wife My Fix It Up Life team. From their Facebook bio: Mark knows more about tools than anyone has a right to know. From docks and decks to kitchen renovations, Mark loves moving fast on the jobsite. With his wife Theresa, Mark hosts the popular MyFixitUpLife talk show, is the general contractor for Food Network's 'Save My Bakery,' and has been a project manager for Extreme Makeover: Home Edition, and expert guest on PBS, DIY Network, Discovery Channel, A&E, NBC's The 10! Show, Good Day Philadelphia, and other national radio and TV programs. Mark contributes to Men's Health, Professional Deck Builder, Old House Journal, This Old House, Popular Mechanics, Handy, and Extreme How-To magazines. He teaches clinics for JLC Live! and other trade shows, and is the former award-winning executive editor of Tools of the Trade. Mark is the author of the critically acclaimed novel The Carpenter's Notebook. As a competitive Spartan Race elite, and his athletic past as a rugby player, a triathlete, marathon runner, and urbanathlete, Mark's energy and skill are undeniable.