Adding a Deck to Your Home
Adding a deck to your home is a great way to boost your quality of life and your enjoyment of the great outdoors. While Southern Yellow Pine looks beautiful on its own, you can also customize your deck to make it any color you like with a variety of paint and stain options. Finishing your deck is a very doable DIY project — if you take the time to prep your wood first. Here's how to get started to ensure the perfect finish.
1. Know Your Wood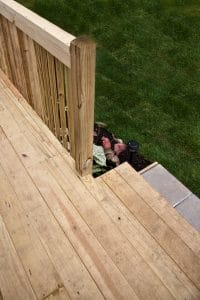 If your deck is made from pressure-treated lumber, you'll need to know how the treatment was done before choosing a stain. Kiln-dried (KDAT) or air dried (ADAT) wood is ready to stain with any kind of finish you like, but wet-treated or "green" lumber needs to dry out first — usually for several months. If your Southern Yellow Pine was treated with a water repellent, you'll need to use an oil-based paint or stain to ensure good adhesion.
2. Clean Your Wood
If you had to wait several months before finishing your deck, you'll need to clean it before painting. Sweep thoroughly to remove debris, then clean dirt and pollen from the surface using an oxalic-acid-based deck cleaner to prevent damaging the wood fiber. Products that contain bleach (sodium hypochlorite) can damage wood fibers and accelerate corrosion of metal builders hardware, fasteners and railings. Follow the instructions on the cleaner container and use a stiff brush to work cleaner into the wood before rinsing with a hose. Be careful not to aggressively scrub or applying too much pressure to the surface during rinsing (especially from a pressure washer), as this may damage the fibers as well. Be sure to let the deck dry thoroughly before applying your finish.
3. Prep Your Wood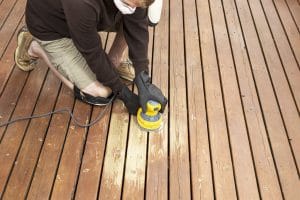 Even brand new lumber will benefit from a light sanding before applying paint or stain. Use a palm sander with 80 grit sandpaper to make quick work of all surfaces. Use a tack cloth or an old T-shirt to wipe away excess sawdust; then double-check for any popped nails or splinters that need a final repair. You're almost there!
4. Finish the Wood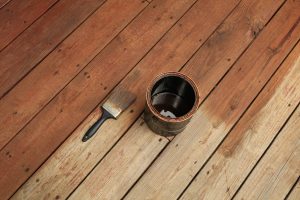 Use painter's tape to mask off any edges where your deck meets the house so you don't accidentally get stain where you don't want it. Most people find it easier to use a paint pad to cover large deck surfaces quickly: Just pour your paint or stain into a roller tray and dip in the pad. Press out excess stain; then apply the stain in long, smooth strokes. Use a smaller paint brush to get between deck boards and for smaller surfaces like railings.
Pro Tip: Plan your route before you start staining so you don't back yourself into a corner. For railing, it's best to start at the top and move down to smooth out any accidental drips as you go.
Whether you choose a color or a clear coat, these tips will make sure your deck looks great for years to come.