Thrilling Southern Yellow Pine
When you think about Southern Yellow Pine, you almost certainly picture rows of straight, clean dimensional lumber at the lumberyard or home improvement store, all lined up for your next project. Most of us think only as far as building a deck or swing set — or maybe framing a shed if you're feeling extra handy.
But did you know that some intrepid builders look at SYP and see thrill rides?
It's true! Southern Yellow Pine is the lumber of choice for building wooden roller coasters. And if you've ever built a project with SYP, you won't be surprised at why engineers love it for coasters.
Strength and Stability
SYP has always been a favorite with builders thanks to its superior strength. Even though pine is technically a softwood, this designation actually comes from the fact that the tree is a conifer that maintains its needles and reproduces with pinecones. Hardwoods, by contrast, are from deciduous trees that lose their leaves and reproduce with seeds.
So while SYP is technically a softwood, it is extremely dense, making it a hard, strong wood to work with — and that's critical for building a wooden roller coaster that soars hundreds of feet into the air! It's easy to cut with power tools, and SYP takes pressure treating better than just about any other wood around, so a wooden coaster built today can withstand wind, rain and snow for decades to come.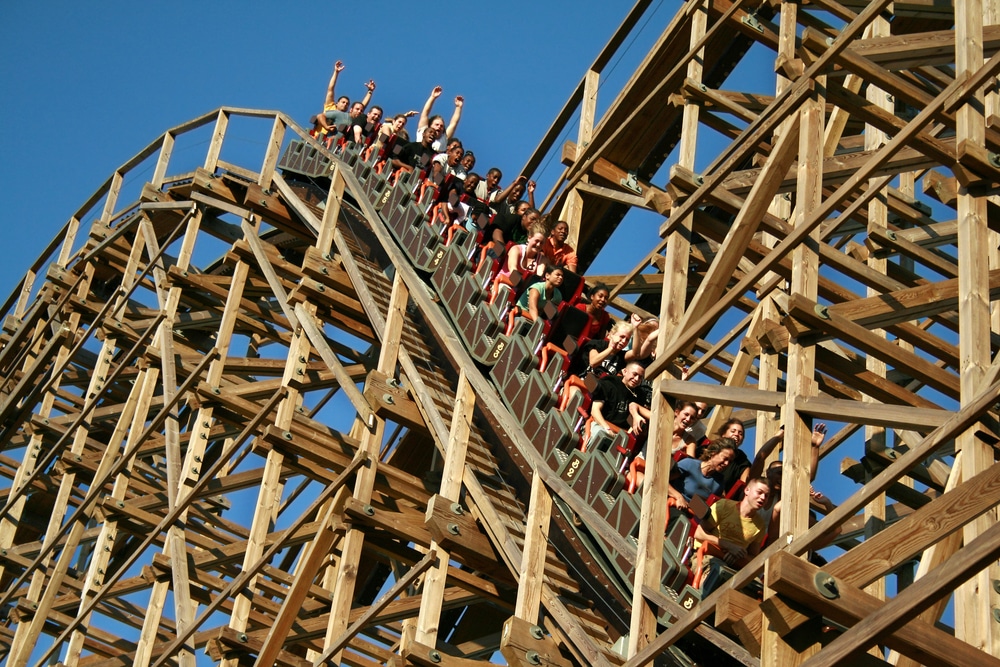 These features of Southern Yellow Pine are why it has been used to build wooden roller coasters all over the world, from Six Flags New England to Wild Waves & Enchanted Village in Washington State — and even in Europe. Great Coasters International, a wooden roller coaster design firm in Pennsylvania, also makes sure to use SYP from renewable forests to make sure their coasters are as environmentally friendly as possible.
Great Wooden Coasters to Visit
From the day the first wooden roller coaster opened on Coney Island in 1884, people have been in love with the rush of whooshing down the hill. Though many coasters are now made of steel, enthusiasts love the ways a wooden coaster sounds and feels as riders rattle down the tracks. You can experience the thrill — made perfectly safe by SYP — by visiting some of these incredible wooden roller coasters:
"Leap the Dips" at Lakemont Park, Altoona, PA — This is the oldest wooden roller coaster still running. Built in 1902, it's not much of a thrill ride, but history buffs will enjoy it.
"ThunderHawk" at Dorney Park, Allentown, PA — Built in 1924, this coaster was the centerpiece of this classic amusement park for many years. The park has grown to include plenty of thrill rides, but locals still love this classic wooden coaster.
"El Toro" at Six Flags Great Adventure, Jackson, NJ — At 181 feet, this is the tallest wooden coaster in the United States right now — though parks are always working to outdo each other! It's also one of the fastest wooden coasters in the world.
"Gold Striker" at California's Great America,  — Ranked one of the world's Top 10 wooden roller coasters by Amusement Today's Golden Ticket Awards, this coaster thrills guests with the longest initial descent of any wooden coaster.
"Mystic Timbers" at Kings Island, Mason, OH — One of the newest wooden coasters, this thrill ride opened in 2017. It claims to have the longest wooden track of any coaster in the world.
"Lightning Rod" at Dollywood, Pigeon Forge, TN  — Opened in 2016, this massive Southern Yellow Pine wooden structure hurtles riders through the landscape of Dollywood.  It boasts a 165-foot drop and a 3,800-ft. track with a top speed of 73 mph. According to their website, the Lightning Rod is the fastest wooden coaster in the world.
"Goliath" at Six Flags Great America, Gurney, IL — This one was the world's fastest wooden coaster when it was built, and contains an astounding 300,000 board feet of SYP.
The next time you're on a wooden roller coaster, take a moment to take in all the lumber it took to construct — odds are good that SYP is what makes your fun possible!
(Images via Shutterstock)